How to choose the right sieving machine? It is recommended to select the suitable for your product sieving machine through materials and output.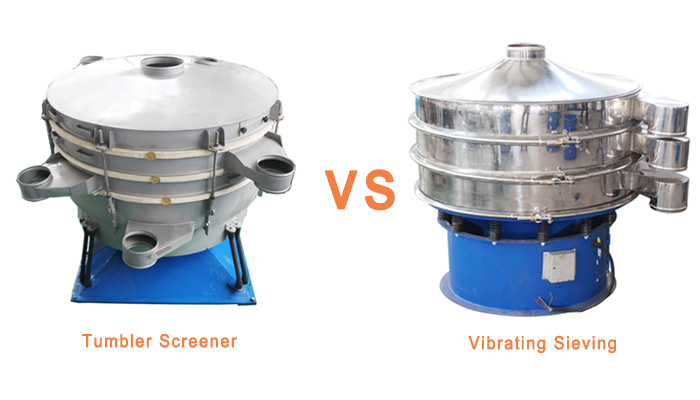 1. Different working principles
Tumbler screener machine is a kind of artificial sieving equipment that does elliptical swing motion. Vibrating sieving machine is a vertical, horizontal and inclined three-dimensional circular movement driven by the exciting force generated by the vibrating motor.
2. Different space requirements
Due to the large volume of the tumbler screener machine, it occupies a large space. The maximum size of the vibrating sieving machine can be 1800mm, and the required space is small.
3. Different output
For large-volume screening, it is recommended to use a tumbler screener machine. Because of the large area of contact area between the tumbler screener machine and the material, the screening output is large. The contact area of the vibrating sieving machine is small and cannot achieve high-yield screening. The output of the tumbler screener machine can reach 5-10 times that of the vibrating sieving machine.
4. Different materials to be screened
In general, the vibrating sieving machine screens fine materials, and the tumbler screener machine screens coarse materials. The screening efficiency of the tumbler screener machine is higher than that of the vibrating sieving machine.
5. Different ways to clear the screen mesh
The vibrating sieving machine has three cleaning devices: bouncing ball, rotating brush and ultrasonic, while the tumbler screening machine only has a bouncing ball cleaning method.
Tell us the screening material and the output, we will recommend you a suitable screening machine.
More about the difference between tumbler screener machine and vibrating sieving machine, please contact us.