Circular vibrating sieve is a new type of vibrating sieve with multiple layers and high efficiency.It forms a certain angle by the eccentric weights on the upper and lower ends of the vibration motor,and the screen body drives the screen mesh to make a horizontal, inclined and vertical three-dimensional movement.Under the action of the three-dimensional movement,the fine powder material will move to the bottom of the material layer and gradually pass through the screen mesh to achieve the effect of screening grade.The circular vibrating sieve is widely used in food,chemical,medical,metal and other industries.It has the characteristics of reliable structure,strong excitation force,high screening efficiency,low vibration noise,sturdiness and durability,convenient maintenance,safe use,etc.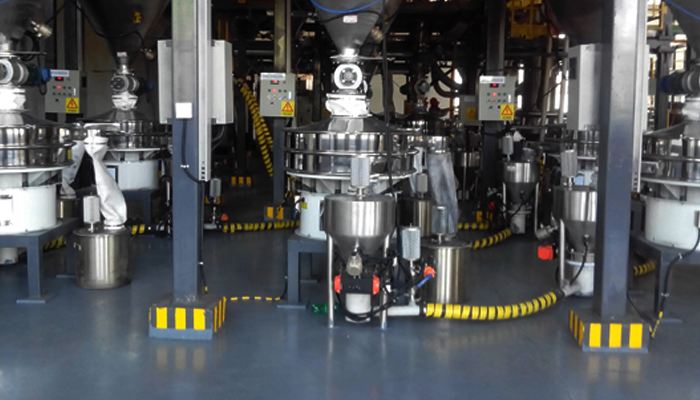 The circular vibrating sieve is composed of vibrating motor,screen mesh,screen frame,bouncing ball,shock-absorbing spring and other accessories.The height of the machine or the shape of the discharge port can be customized according to the using of the site.
How to install a circular vibrating sieve
Prepare the tools needed for installation,screwdriver,scissors,hammer and wrench.Check whether the motor voltage meets the requirements,Check whether the screen mesh surface is damaged.

First install the screen frame,surround the rubber strips on the screen frame,and prepare it for use.

Secondly install the screen mesh(some of the screens mesh have been installed before leaving the factory).Place the screen mesh on the screen frame,wrap it tightly with a netting tool,flatten the screen mesh,and then cut off the excess screen mesh with scissors.Put rubber strips on the finished screen frame.

Place the base in a horizontal position and lay it flat.Install the motor on the base,align the holes on the motor with the holes on the base,and then lock it with screws.Secondly,install the spring and install the vibrating body.Then install the bottom frame,the middle frame,the screen mesh,the bouncing ball,the upper frame and the dust cover in turn (the middle is fastened with a clamping ring).After installation,using leather hammer to hit the clamping ring a few times to prevent loosening.

After installation, connect the power supply and let the vibrating sieve run idly for 2-5 hours
Circular vibrating sieve considerations
During the installation process,pay attention to your own safety.So as not to cause unnecessary collisions.

2. Before starting the machine,please remove the transportation holding bolt on the bottom layer.Check the tightness of each fastener and tighten it.

3. Before turning on the power,check whether the operating voltage of the motor is consistent with the local voltage.When the power is turned on,the vibrating motor should run clockwise.

4. If an abnormal sound is found during use,it should be shut down immediately for inspection.
More knowledge about circular vibrating sieve, please contact us