Ultrasonic sieving deblinding system introduction
Ultrasonic sieving deblinding system is composed of ultrasonic generator,transducer,resonator and power cord.The ultrasonic generator and transducer generate vibrations and introduce the vibrations to the resonator.The sound wave vibration is evenly transmitted to the surface through the resonator,and then the installed screen mesh starts to vibrate.The principle is that the transducer converts electrical energy at 30kHz and 38kHz into mechanical energy at 30kHz and 38kHz.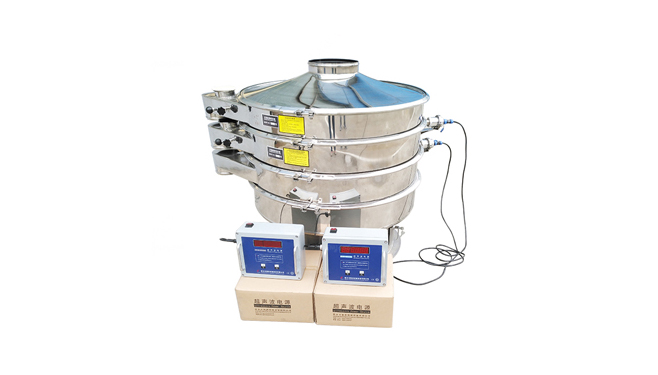 Ultrasonic sieving deblinding system Features
1. Completely independent research and development,high safety,high screening efficiency.
2. Multiple sieving machines can be connected to one ultrasonic generator.
3. Solve the problem of fine powder screening,High screen passing rate/Ensure high throughput during screening.
4. Efficiently clean the screen mesh.
5. Automatic tracking of digital frequency throughout the whole process,without manual adjustment.
Ultrasonic sieving deblinding system instructions for use
On ultrasonic controller panel has "work mode" and "work/pause" button,in addition has a digital window to display the working condition.
1. "Work/pause" button: press this button once in the working condition,ultrasonic suspend work,window shows "0000 PX" (X according to different work mode display 1 ~ 5);in suspended state press the button once,ultrasonic return to normal working condition.
2. "Work mode" option button:ultrasonic controller has C1 ~ C5 five different work mode,C1 working mode the strongest,C2 less than C1,C4 is weakest,C5 for pulse condition.In ultrasonic system working condition,you press once will change a work mode, from C1 ~ C5 conversion cycles.
3. Memory function.For example:if the last time closed when ultrasonic controller working mode is the C3,turn on it,this controller is still working in the C3 model.
4. Error display function.In working status,the screen shows E indicate error information.the Numbers behind E indicate wrong type.
More information about ultrasonic sieving deblinding system, please contact us.