Vibrating sieving line machine for lithium battery material
As of 2018, China's lithium battery production output reached 12.1 billion, becoming the world's major lithium-ion battery producer and consumer.Dingcoma company has rich experience in sieving lithium battery anode materials, and has supplied vibrating sieving machines to the largest anode material supplier in China.We will customize a suitable lithium battery material vibrating sieving line machine production line according to the actual situation of the customer site.
Due to the small particle size, light weight, strong viscosity special properties of the negative electrode material, the difficulty of screening increases.Many vibrating sieving machines fail to meet the screening requirements, which can easily cause the screen to block the screen.
For this reason, Dingcoma company designed a vibrating sieving machine specially designed for screening negative electrode materials and obtained a national patent.The vibrating siveing machine can achieve the purpose of efficient screening and cleaning.The sieving principle of lithium battery material sieving machine is to convert 220V, 50Hz or 110V, 60Hz electrical energy into 36Hz/38Hz high-frequency electrical energy, and input the ultrasonic cleaning transducer through the ultrasonic power source to turn it into 36Hz/38Hz mechanical vibration energy.It can make the negative electrode material receive huge ultrasonic acceleration, thereby inhibiting the blocking factors such as adhesion and friction, and improving the screening efficiency and cleaning efficiency.The special dustproof device avoids the problem of powder leakage and flying dust.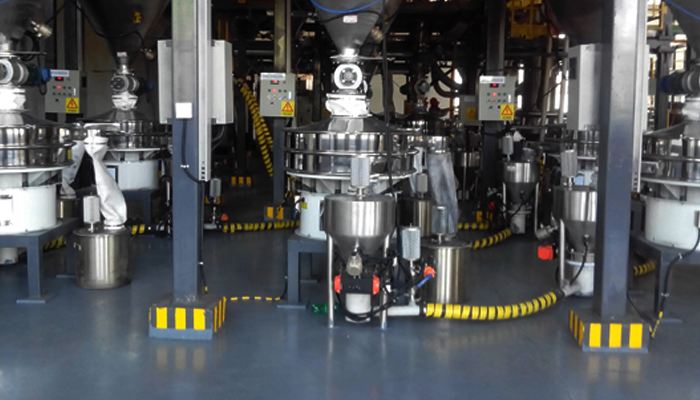 The anode material vibrating sieving is also called ultrasonic vibrating sieving machine. Compared with ordinary vibrating sieving, the ultrasonic vibrating sieving has an ultrasonic system. Under the action of ultrasonic system, it can screening graphite below 10 μ M. Our ultrasonic system is completely independent research and development, with patented technology.

More information about sieving lithium battery materials, please contact us, we will design a complete sieving program for you